For Jereh's enterprise culture, sustainable innovation is the power of a corporation's growth. Since 2010, patents registered by Jereh averagely increases by 170% each year, some of which has entered the PCT international application stage. Now Jereh plays a leading role in Chinese oil & gas equipment and service industry in terms of patent quantity.
As the largest oilfield stimulation equipment manufacturer in the world, Jereh spends much on independent innovation to promote its development and thus has gained strong technology advantages in cementing, coiled tubing and liquid nitrogen. The core part of coiled tubing units, namely the injector, is one of Jereh innovative products which break market monopoly by large international oil equipment manufacturers and now is selling to overseas market.
Moreover, Jereh new concept shale gas fracturing solutions launched on Oct. 18th, 2013, proves its strong innovation capability with dozens of patents, such as Jereh 240bbl/min Closed-loop Sand Blender, Continuous Sand Conveying System, Self-elevation Sand Storage Silo and Jereh 3100hhp Truck Mounted Fracturing Unitwhichget more than 10 patents in terms of overall structure and key technology.
"Sustainable innovation is the power of a corporation's growth. To pay more attention to innovation can keep our products win a continuous edge over our competitors", said by Mr. Jiang, vice president of Jereh group. Considering the increasing importance on intellectual property, Jereh invested $21.4 million on research &development, and hired more than 500 engineers in 2012. By the end of 2013, it has established technology center, petroleum equipment research center, energy engineering and service research center, gas transmission and LNG research center, as well as Shandong cementing equipment research center and Houston technology research center attracting lots of professionals and participating in global technology research and development. Meanwhile, a specific patent evaluation system is established to strengthen screening and optimization of patent declaration.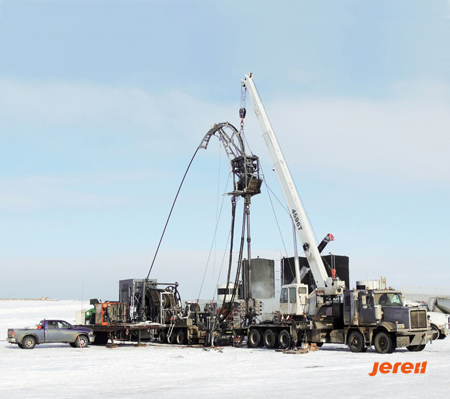 Jereh CTU with China largest tubing dia.2.875"working in Canada