BEIJING, March 19, 2014, Jereh Group (SZ002353), a world leader in O&G equipment manufacturing and engineering services, has unveiled its new Apollo turbine frac pumper at CIPPE 2014, powered by a turbine engine. Independently developed by Jereh, it realizes outstanding performance results with a smaller footprint and higher power output, a technological breakthrough that brings more confidence not only to future shale gas exploration, but also to China, making it one of the first three countries, together with the United States and Russia, capable of designing and building turbine-driven fracturing equipment.
The Apollo turbine frac pumper reinvents fracturing equipment. The maximum output power can reach 4500hhp, breaking the world record of 3115hhp, which was also achieved by a Jereh star product in spring of 2013. Equipped with a turbine engine at 5600hp and Jereh plunger pump at 5000hp, its performance far exceeds that of hydraulic horsepower turbine frac pumpers previously on the market, with 3750hp engines and 2250hp plunger pumps. Compared with a 2000hhp frac pumper, which is commonly used in China oil and gas exploitation, it has more obvious advantages, including smaller footprint, lighter weight, double power output and 82% fuel cost savings for gas under the same operation. (Fuel cost savings are calculated on the basis of China market pricing.)
According to the 2014 Energy Working Guidance released by the National Energy Administration in late January, shale gas production in 2014 will surge to eight times as much as in 2013, and CBM production capacity will also increase to six times as much as in 2013.But bad road conditions and the small size of well sites in China impede large-scale shale gas development in China. Therefore, Jereh, the world's largest stimulation and completion equipment manufacturer, boosts investment on R&D of core equipment by working on significant improvement of a single unit's power density to achieve factory jobs, including its new-concept fracturing solution of "small well site, great frac job" launched in October 2013.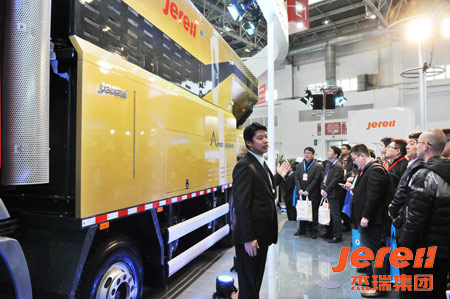 Jereh Apollo Turbine Frac Pumper Showing in Beijing, China