On Aug. 29th, 2013, Jereh group, as the representative of excellent private enterprises striving for international market in energy equipment industry, participated in the global development forum for Chinese energy equipment enterprises.The chairman, Mr. Sun Weijie shared the challenges and opportunities faced by Jereh in its rapid development and global expansion.
Established in 1999, In accordance with the enterprise goal of "Build a worldwide brand, Make Jereh go from success to success", Jereh develops prudently in implementing its internationalization strategy. By now, Jereh's well-ensured products and customer-oriented solutions have been successfully applied to more than 30 countries and regions in the world, widely recognized by customers all around the world.
Mr. Zhang Guobao, the former general director of National Energy Administration, highly appraised Jereh's "rocketing development" and put it that "compared with increasingly difficult industry implementation, its leapfrog-type development truly attributes to its great innovation competition ." Consultant of State Council, Mr. Xu Dingming also thought highly of Jereh's rapid growth. In addition, in recognition of the great contribution to technology innovation in Chinese energy equipment, the chief engineer from Jereh group, Mr. Zhang Shuli was awarded as "the Role Model of Chinese energy equipment technology innovation".
During the meeting, representatives and experts from Ministry of Commerce, Chinese Social Science Net (CSSN), CNPC and People's Daily warmly offered their suggestions on Jereh's better globalization development. They agreed that there should be more innovation and international step in the thoughts, brand, sales strategy and standards, and meanwhile state-owned and private owned equipment enterprises should establish a new type of cooperation and competition for better mutual development in the global market.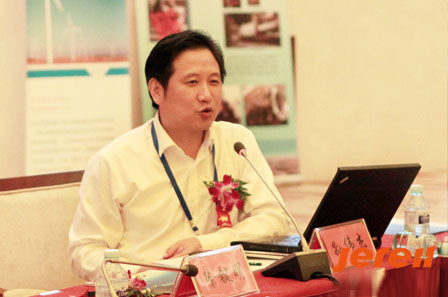 Jereh Presentation by Mr. Sun, Chairman of Jereh