Jereh Equipment Debut for China's First Shale Gas Zipper Frac Operation
With the successful operation of China's first zipper frac in Sichuan on December 13, 2013, the discussion on low-cost development of shale gas is increasingly high. Its success greatly shows Jereh's and even China's strong capability in the stage fracturing technology for global unconventional oil and gas development. Meanwhile, the continuous operation of Jereh equipment including coiled tubing units, frac pumpers, and sand blenders etc. which ensure stable and efficient completion of the job provides a typical application case for the future factory operation of shale gas in China.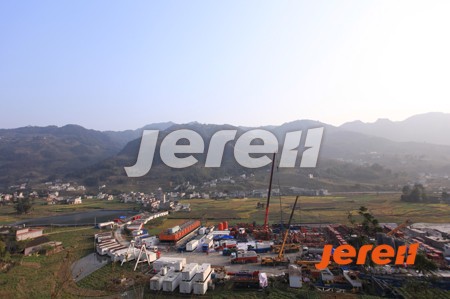 It is well-known that zipper frac technology has been quite mature in North America as one of the main forms for shale gas factory development. And in the China's first application, the strong technology and equipment from two international companies, Halliburton & Jereh, guarantees its success. Jereh provides one-stop turnkey services including hydraulic testing, perforating, bridge plug setting, fracturing, micro seismic monitoring, coiled tubing drilling and grinding, ground support and other technical services. The operation time is from 7AM on 6th, Dec. to 9PM on 13th, Dec., 24 stage frac for two wells are completed.


| | |
| --- | --- |
| Maximum pump pressure | 12,642.5 psi (87.19MPa) |
| Maximum displacement | 3,143.6 gpm (11.9 m3/min) |
| Maximum sand concen. | 2.13 ppa (253 kg / m3) |
| Total amount of liquid (24-stages) | 11 million gal (43,200 m3) |
| Total amount of sand (24-stage) | 4.2 million lbs (1,908.73 tons) |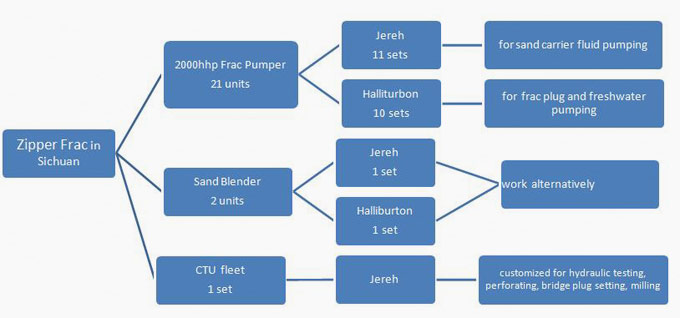 After the technology breakthrough, how to significantly reduce costs and achieve scale development has become one of the biggest obstacles in Chinese shale gas exploration. As the world's most rich country on shale gas reserves, however China is far behind on the E&P compared with N.A., who rapidly transited from an energy importing country to an exporting one by virtue of massive shale gas industrialization. But there is no doubt that the first successful zipperfrac in China brings more hope to future low-cost shale gas development. And Jereh will work with other companies by its leading capability to speed it up.