Jereh 2500HP Frac Pumper Achieves Excellent Operation Effect
Recently, several media including International Energy Website reported that Jereh 2500HP Frac pumper successfully completed operations at several China oilfields including Sichuan, Xinjiang, Liaohe and Daqing. The report speaks highly of Jereh Frac spread for its successful and continuous trouble-free operations with high working pressure and large displacement.
As the report mentioned, Jereh 2500HP Frac pumper participated in ultra deep and ultra high pressure well fracturing operations under different geographic and well conditions. Relying on its excellent quality and reliable performance, Jereh Frac pumper achieved remarkable operation effect and was deeply favored by customers. Up to now, during the acidizing fracturing operations in Sichuan, Jereh 2500HP frac pumper achieved maximum construction displacement 34 bpm, maximum working pressure 18,854 Psi and alternating injection of fracturing fluid 4,776 bbl. Two historical records were broken including maximum working pressure and maximum displacement. During the operations in Xinjiang, the unit had been continuously working for over 7 hours without any failure.
In 2009, Jereh designed and manufactured 2500HP Frac pumper, who has the highest output power among all the truck mounted Frac pumpers at that time. The output power of single unit greatly increased compared with 2000HP Frac pumper. It truly achieved output power 2500HP and maximum working pressure 20,300 Psi. Jereh 2500HP frac spread is equipped with Totally Integration Automation (TIA) system developed by Jereh himself, which makes the Frac spread widely used for China conventional and unconventional (shale gas) fracturing. It also successfully entered into North American shale gas fracturing market and won high appreciation and praise from customers. As a world leading oilfield equipment manufacturer, Jereh will keep on innovation consistently and devote to providing high quality equipment for customers all over the world to build Jereh a worldwide brand and make Jereh go from success to success.
Jereh 2500HP Frac Spread in Sichuan for Acidizing Operation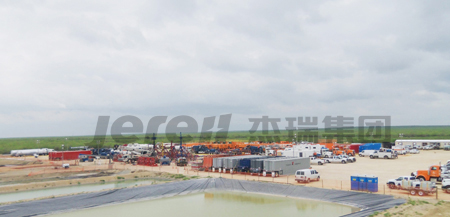 Jereh 2500HP Frac Spread in N.A. for Shale Gas Operation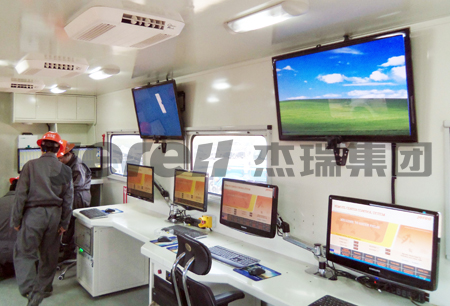 Jereh Patented Advanced TIA System for Operation Control of N.A. Shale Gas Frac Spread